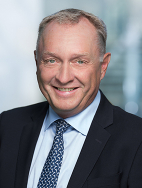 Carsten Dilling, born 1962
Chairman of the Board of SAS AB since 2018. Member of the Board of SAS AB since 2014.
Directorships: Chairman of NNIT A/S and Icotera A/S, vice chairman of Højgaard Holding A/S and Board member of Terma A/S and MTH Group A/S.
Education: B.Sc. and M.Sc. in Economics and Business Administration, Copenhagen Business School.
Earlier directorships/positions: Board member of Get AS, Traen A/S (Chairman), Gatetrade A/S, Columbus IT Partner A/S, Confederation of Danish Industry (DI) and Industrial Employers in Copenhagen (IAK) and a number of Board assignments for the TDC Group. Previously President and CEO of TDC A/S.
Shareholding: 352,220.
Shareholding of related parties: 0.
Independent of the company, the company management and the company's major shareholders.