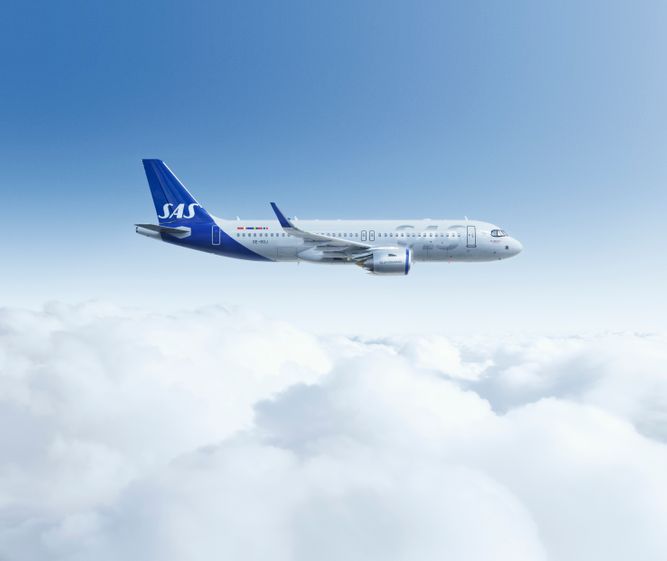 NEWER AIRCRAFT OF THE RIGHT SIZE CREATES LESS EMISSION
SAS' strategy is to replace older aircraft with newest generation. During 2022 SAS will complete the replacement of the 737NG family with A320neo, reaching 80% newest generation in the shorthaul jet fleet. The last 20% comprised of A320ceo family aircraft is planned to be replaced by remaining A320neos on order by 2025.
SAS aims to use the right size of aircraft on every possible occasion. Flying aircraft that are too big generates unnecessary emissions even if it generates a better theoretical result per available seat kilometer.That is why SAS uses aircrafts of different sizes.
Current Airbus fleet have 150, 168, 180 and 200 seats and Boeing 141 and 183 seats. This entails great flexibility according to demand, which guarantees the lowest possible total emissions at any given time. SAS new Airbus A320NEO reduces around 18% of the CO2 emissions compared to the Boeing 737-800 it replaces.
NEXT-GENERATION AIRCRAFT WITH ZERO EMISSIONS
For many years, we've been working to reduce the environmental impact of our flights by supporting initiatives in engine development, low or zero-emission aircraft and airport energy infrastructure.
By investing in new technology for the next generation of aircraft, we are helping drive development toward more sustainable aviation.
We believe that hydrogen hybrid aircraft will be particularly well suited for our network of medium to long-haul flights while our short-haul flights will be primarily electric.
ELECTRIC AND HYDROGEN ZERO-EMISSION AIRCRAFT
In May 2019 we took a historic step by entering a partnership with Airbus to pave the way for the large-scale use of low and zero-emission electric and hydrogen powered commercial aircraft.
Hydrogen is a high-potential technology with a specific energy-per-unit mass that is three times higher than traditional jet fuel. If generated from renewable energy through electrolysis, it emits no CO₂ emissions, thereby enabling renewable energy to potentially power large aircraft over long distances but without the undesirable by-product of CO₂ emissions.
The Airbus ZEROe aircraft are expected to be available around 2035.
MOVING TOWARD ELECTRIC AIRCRAFT
SAS joined forces with Heart Aerospace in 2019 to drive the development of electric aircraft. And in September 2022, we signed a letter of support to add their new electric ES-30 to our regional fleet.
This partnership has the potential to be a significant step on our sustainability journey, enabling zero-emission flights on routes within Scandinavia.
We will also be part of Heart Aerospace's new Industry Advisory Board and assist in defining requirements for the ES-30 aircraft.
The partnership between SAS and Heart Aerospace is the next step toward securing more sustainable air travel for generations to come. The first electric aircraft will be certified for commercial flights by 2028.