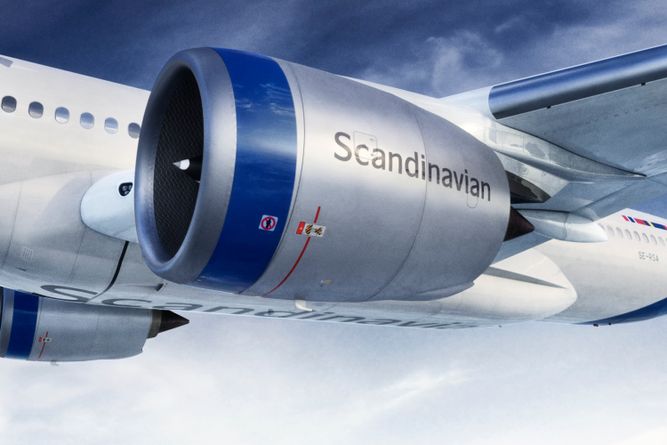 travelers can buy SUSTAINABLE AVIATION FUEL
SAS aims to use the equivalent of all our domestic flights with fossil-free aviation fuel by 2030, a journey we make together with our passengers. Therefore, we are making it even easier for our travelers to be part of the journey toward more sustainable aviation.
The amount of biofuel purchased will be used to replace the equivalent amount of fossil fuel in SAS' operations. SAS guarantees that the purchase of biofuel takes place within 12 months.SAS makes no profit on biofuel sales. The biofuel SAS sells is in addition to the amount of biofuel we have already committed to buy.
TICKET TYPES WITH 50% BIOFUEL INCLUDED
Starting this spring, travelers buying Go Smart or Plus Pro tickets will be able to purchase these tickets with 50% of biofuel included to lower the CO₂ emission of their SAS trip.
The ticket includes the cost of approx. 50% biofuel and is calculated on an average journey, corresponding to approx. 60 min flight on an SE/NO Domestic and within Scandinavia, 35 min DK Domestic or 1h 30min on European flights.
Compared to fossil fuels, sustainable aviation fuels such as biofuel dramatically reduce the climate-impacting CO₂ emissions in their lifecycle.
20-MIN BLOCK OF BIOFUEL
We are constantly working to develop more sustainable products and services. As part of this, we've made it easy for travelers to buy biofuel to reduce their climate-impacting CO₂ emissions.
Travelers can buy biofuel for 10 USD/10 EUR/100 SEK/100 NOK/70 DKK per 20-minute block of biofuel. This means you need to buy three blocks of biofuel for a 60-minute flight to add 100 percent biofuel for your flight.
The amount of biofuel purchased will be used to replace the equivalent amount of fossil fuel in SAS' operations.
Even though according to regulations, aircraft may only operate with a maximum fuel mix of 50 percent SAF, by purchasing biofuel to cover an entire trip, travelers can contribute to reducing the overall use of fossil fuel in the same way as they can choose electricity from wind power for their homes.
CORPORATE SUSTAINABILITY PROGRAM
Aviation plays a vital role in society, transporting cargo and connecting businesses, people, and cultures in a time-efficient way. Traveling is also a mind-opening experience. These are all things we want future generations to enjoy as well.
For this reason, we are accelerating partnerships with corporate customers to decarbonize aviation by expanding usage of sustainable aviation fuel. By joining the Corporate Sustainability Program, cargo and corporate customers can reduce their Scope 3 emissions from air travel or transport.
We invite all corporate and cargo customers on board the journey toward more sustainable aviation.
TRAVEL PASS BIOFUEL
SAS for Business offers a program for frequent corporate travelers who want to fly more sustainably. Travel Pass Biofuel is a specially designed product for people who travel regularly to the same destination and are looking for the best deal, with maximum comfort in SAS Plus, and who want to make a more sustainable choice.