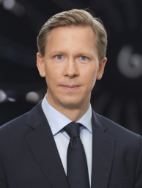 Karl Sandlund, born 1977
Acting President & CEO. Member of SAS Group Management since February 1, 2014.
Previously: Most recently, Executive Vice President & Chief Strategy Officer and previously worked in various management positions for SAS. Karl Sandlund worked for McKinsey before joining SAS in 2004.
External directorships: Board member of Storebrand ASA.
Education: M.Sc. in Industrial Engineering and Management from Linköping University.
Shareholding: 20,000 common shares.