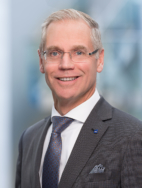 Rickard Gustafson, born 1964
President & CEO. Member of SAS Group Management from February 1, 2011.
Previously, various executive positions in GE Capital, both in Europe and the US, and President of Codan/Trygg-Hansa from 2006–2011.
External directorships: Chairman of Aleris, board member of FAM AB and Telia AB.
Education: Master of Science, Industrial Economics.
Shareholding: 400,000 common shares. A close relative to Rickard Gustafson holds 5 common shares.