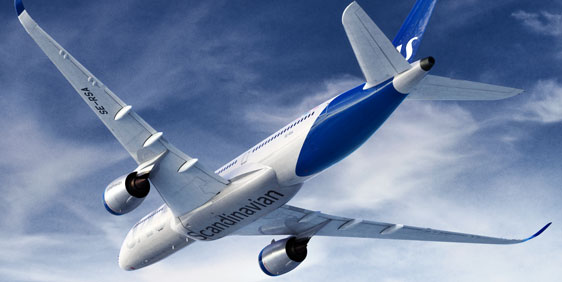 Aircraft on order
SAS modernizes and upgrades the aircraft fleet in order to invest in the future and improve the environmental performance. In 2018, SAS decided to order an additional 50 Airbus A320neo aircraft with deliveries until 2023. This order means SAS for the first time will have a single-type fleet, that consists of the market's most efficient short- and medium-haul aircraft in terms of cost and environment.
SAS is modernizing its short and long-haul fleet with new aircraft, taking deliveries of new Airbus A320neo, Airbus A330 Enhanced and Airbus A350's aircraft until 2023. Combined with upgrades of the cabin interiors this will further modernize the aircraft fleet for the future.
Short-haul
SAS is investing in new Airbus A320neo and will by 2023 have at least 80 aircraft in service. Moreover, SAS has some options from the Manufacturer and have the possibility to increase the number of aircraft that can be leased from lessors. Alongside existing aircraft, this also creates flexibility for growth under the right circumstances. All of the aircraft will be equipped with SAS's high-speed Wifi and have SAS's appreciated new cabin interiors.
Long-haul
The first long haul aircraft with the entirely new cabin interior was delivered in February 2015 and since then all SAS's long-haul aircraft in traffic (Airbus A330 and A340) have been upgraded. SAS's is also upgrading its short haul fleet with a new and more modern cabin interior. During 2019-2021, SAS will take deliveries of 8 Airbus A350.