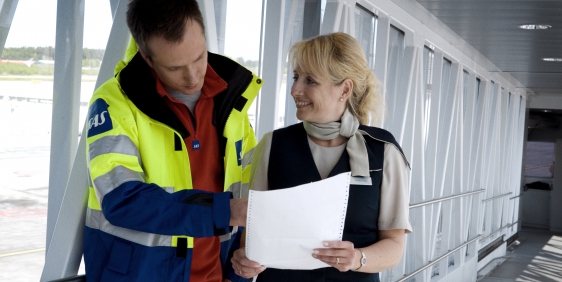 Do you fit in?
SAS carries about 30 million passengers a year and is a vital part of Scandinavian infrastructure. We maintain the highest frequency of departures to and from Scandinavia. And as a part of Star Alliance, we fly our customers to more than 1300 destinations worldwide.
Everything we do is about making life easier for Scandinavia's frequent flyers and we are committed to ensure that travelling with SAS makes a difference.
At SAS we can offer a number of interesting positions, in the air as well as on the ground. We employ candidates as cabin and cockpit crews, working in the skies for the safety and comfort of our customers. We also offer exiting positions within Technical operations, Marketing & Sales and within general management.
Do you fit in?
We are looking for candidates who strive to do their best, who are team players and get themselves engaged. To thrive and be able to grow at SAS we need candidates who assume ownership, who take action and contribute to a joyful working environment. If you are also dynamic and not afraid of constant change, we know for sure you will find SAS an inspiring employer.
We are constantly looking for people to join our team and you can see all our available positions her.
What we offer
We offer a wide range of different jobs, in a number of professional fields. At SAS you get competitive compensation and benefits and the opportunity to learn and grow in the aviation industry. We are committed to providing our employee with the leadership and engagement to keep making all the difference to our customers
We strive for People Excellence and have a number of initiatives in place:
We invest in our leaders, to ensure they are role models and ambassadors of the SAS culture and way of working.
We focus on performance management and a performance driven culture: the need to set goals, coach and develop and follow up. It is important we all know how we contribute to SAS overall goals. The approach to change, improvement and development in SAS is called lean. Our performance management process is closely linked to the LEAN philosophy. We need to work, and meet our customers, in an efficient and consistent way.
We work with Employee Engagement and strive to be among the top 5 companies in the transportation industry in the Nordics.
Do you feel this is the right environment for you? If so, hope to see you on board in the next future!
Rickard Gustafson
President and CEO, Stockholm