SAS TILBYR MER ENN 5000 UKENTLIGE FLYVNINGER DENNE SOMMEREN
December 8, 2022 15:45
SAS åpner 20 nye ruter sommeren 2023, noe som betyr mer enn 5000 ukentlige avganger til over 100 destinasjoner. Dette inkluderer ni nye europeiske destinasjoner og én ny innenriksrute i Norge.
Det nye sommerprogrammet inkluderer mer enn 200 ruter, og antall flyvninger vil fortsette å stige på store innenlandske, skandinaviske og internasjonale ruter i takt med at etterspørselen etter reiser ventes å fortsatt øke.
I lys av den sterke kundeetterspørselen etter spesielt populære destinasjoner, ligger SAS' samlede kapasitet til Middelhavet an til å overstige nivåene fra før pandemien. SAS legger til flyvninger til mangeårige favoritter i Spania fra alle de tre skandinaviske hovedstedene, samt en fjerde destinasjon i Kroatia med oppstarten av ruten København-Zadar.
Sommerens trafikkprogram inkluderer en stor kapasitetsutvidelse til Italia. SAS vil ha opptil 156 ukentlige flyvninger mellom Skandinavia og Italia med de nye rutene fra Oslo til Catania, Firenze og Venezia, samt fra Bergen til Milano. I tillegg legger SAS til ytterligere flygninger til eksisterende destinasjoner som Milano, Bologna og Roma. Milano betjenes opptil tre ganger daglig fra København, opptil to ganger daglig fra Stockholm og daglig fra Oslo. Utvidelsen til Italia inkluderer også flere flyvninger fra København til Firenze, samt til Catania og Palermo på Sicilia.
Ni nye europeiske destinasjoner fra Norge
SAS vil tilby ni nye europeiske destinasjoner og én ny innenriksrute i Norge i sommer. SAS skal fly fra Oslo til Antalya, Firenze, Catania, Venezia, Larnaca og Stuttgart, og fra Bergen til Milano og Nice. Nye ruter mellom Haugesund-Trondheim og Haugesund-København vil også bli introdusert, samt økt frekvens mellom Ålesund og København. Samlet sett gir det enda bedre forbindelser på Vestlandet.
I løpet av sommeren vil det være en kontinuerlig økning i flyreiser til store europeiske hovedsteder for å gi reisende de beste forbindelsene.
«Vi er glade for å presentere vårt sommerprogram, og vi er svært fornøyde med å se en kontinuerlig økning i etterspørselen etter reiser. Sommertilbudet inkluderer flere nye destinasjoner, samt utvidet kapasitet på eksisterende, populære sommerdestinasjoner. SAS vil fortsette å utvide vårt allerede omfattende nettverk i de kommende månedene med flere spennende nye destinasjoner. Vi ser frem til en travel sommer og til å ønske passasjerene velkommen om bord», sier Erik Westman, EVP & CCO, Network and Revenue Management i SAS.
Følgende nye ruter er innført som en del av sommerprogrammet 2023:
Fra

Til

Oslo

Antalya, Firenze, Catania, Venezia, Larnaca og Stuttgart

Bergen

Milano og Nice

Stockholm

Antalya, Ibiza, Montpellier og Vaasa

København

Antalya, Haugesund, Newquay/Cornwall, Porto, Larnaka, Zadar

,

Porto og JFK/New York

Trondheim

Haugesund
SAS' interkontinentale sommertilbud består av ni destinasjoner – Boston, Chicago, Los Angeles, New York/JFK, New York/Newark, San Francisco, Washington DC, Toronto og Shanghai. Mer enn 170 flyvninger totalt vil bli betjent til disse destinasjonene.
Fullstendig liste over SAS' sommerdestinasjoner:
| | | | |
| --- | --- | --- | --- |
| København | Oslo | Stockholm | Gøteborg |
| Aalborg | Aalborg | Aarhus | Alicante |
| Ålesund | Ålesund | Alicante | Athen |
| Aarhus | Aarhus | Amsterdam | København |
| Aberdeen | Alicante | Analya/Gazipasa | Faro |
| Alicante | Alta | Antalya | Luleå |
| Amsterdam | Amsterdam | Athen | Malaga |
| Analya/Gazipasa | Analya/Gazipasa | Barcelona | Nice |
| Antalya | Antalya | Beirut | Palma de Mallorca |
| Athen | Athen | Bergen | Split |
| Barcelona | Barcelona | Berlin | Stockholm |
| Bari | Bardufoss | Biarritz | |
| Beirut | Bergen | Billund | Bergen |
| Bergen | Berlin | Bologna | Ålesund |
| Berlin | Billund | Brussel | Alicante |
| Biarritz | Bodø | Chania | København |
| Birmingham | Brussel | Chicago | Milano |
| Bologna | Catania | København | Nice |
| Boston | Chania | Dublin | Oslo |
| Brussel | København | Dusseldorf | Split |
| Catania | Dublin | Edinburgh | Stavanger |
| Chania | Dusseldorf | Faro | Stockholm |
| Chicago | Edinburgh | Frankfurt am Main | Trondheim |
| Korfu | Evenes | Genève | |
| Dublin | Faro | Göteborg | Stavanger |
| Dubrovnik | Firenze | Gran Canaria | Ålesund |
| Dusseldorf | Gran Canaria | Hamburg | Aberdeen |
| Edinburgh | Haugesund | Helsingborg | Alicante |
| Faro | Kirkenes | Helsingfors | Bergen |
| Færøyene | Kristiansand | Ibiza | København |
| Firenze | Kristiansund | Kalmar | London |
| Frankfurt am Main | Lakselv | Kiruna | Milano |
| Gdansk | Larnaca | Lisboa | Nice |
| Genève | London | London | Oslo |
| Göteborg | Longyearbyen | Luleå | Split |
| Gran Canaria | Malaga | Malaga | Stockholm |
| Hamburg | Manchester | Malmo | Trondheim |
| Hannover | Milano | Manchester | |
| Haugesund | Molde | Montpellier | Trondheim |
| Helsingfors | New York EWR | Milano | Alicante |
| Heraklion | Nice | Napoli | Bergen |
| Kristiansand | Palermo | New York EWR | Bodø |
| Lisboa | Palma de Mallorca | Nice | København |
| London | Paris | Olbia | Haugesund |
| Los Angeles | Pisa | Oslo | Oslo |
| Malaga | Pula | Östersund | Stavanger |
| Manchester | Reykjavik | Palermo | Stockholm |
| Montpellier | Roma | Palma de Mallorca | Tromsø |
| Milano | Split | Paris | |
| München | Stavanger | Pisa | Kristiansand |
| Napoli | Stockholm | Praha | Alicante |
| New York EWR | Stuttgart | Pula | København |
| New York JFK | Tromsø | Roma | Oslo |
| Newquay/Cornwall | Trondheim | Ronneby | |
| Nice | Venezia | Skellefteå | |
| Olbia | Zürich | Split | |
| Oslo | | Stavanger | |
| Palanga | | Sundsvall | |
| Palermo | | Tallinn | |
| Palma de Mallorca | | Thessaloniki | |
| Paris | | Tivat | |
| Pisa | | Toronto | |
| Porto | | Tromsø | |
| Poznan | | Trondheim | |
| Praha | | Åbo | |
| Pula | | Umeå | |
| Reykjavik | | Vasa | |
| Rhodos | | Vilnius | |
| Roma | | Visby | |
| San Francisco | | Warszawa | |
| Shanghai | | Zürich | |
| Split | | | |
| Stavanger | | | |
| Stockholm | | | |
| Stuttgart | | | |
| Tallinn | | | |
| Thessaloniki | | | |
| Tivat | | | |
| Toronto | | | |
| Trondheim | | | |
| Venezia | | | |
| Vilnius | | | |
| Warszawa | | | |
| Washington DC | | | |
| Zadar | | | |
| Zürich | | | |
Bestill din neste reise i dag: sas.no
Downloads
Images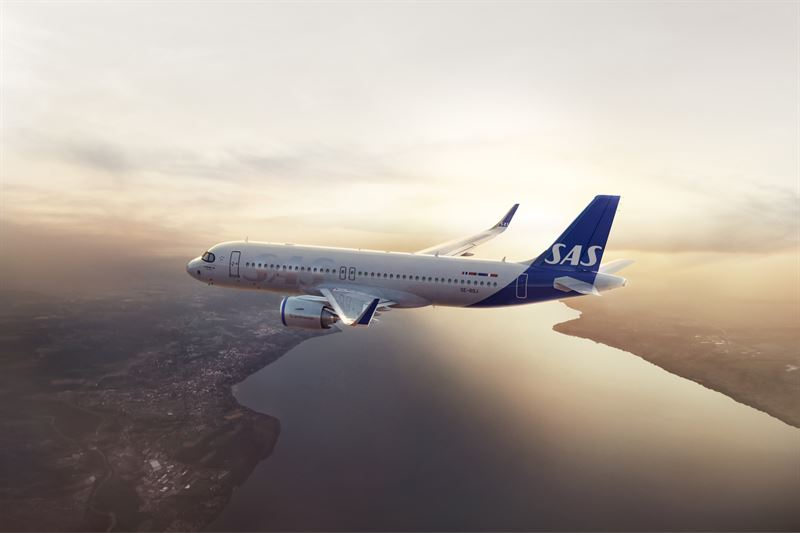 Latest news