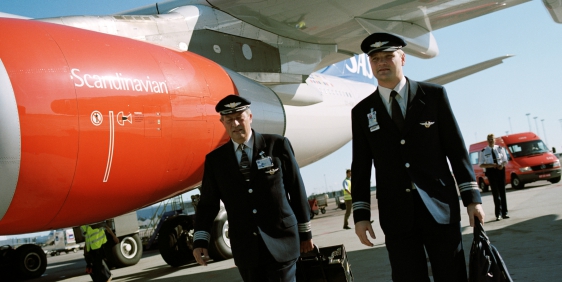 Pilot in SAS
As a pilot in SAS you will normally start your career as first officer on one of our short haul aircraft. Our diverse route net gives excellent opportunities to fly to airports throughout Europe from Norway in the north to Africa in the south.
Most aircraft types fly network traffic combined with seasonal charter. Charter flights are considered a welcome relief for the hectic daily multi-leg operation. The bidding system gives possibilities to apply for different positions being either aircraft type or transfer to our long haul aircraft, all based on availability and seniority.
Promotion to Captain is always done on short haul and is preceded by a Captain Candidate Course. As captain you are not only responsible for the assigned aircraft, crew and passengers but are the Team Leader for the entire departure process supported by innovative new technology developed by SAS.
Should you feel for additional career challenges there are several opportunities in SAS (based on availability). SAS has pilots in many operational, administrative and training positions.
Training in SAS
In SAS we believe that training is a very important part of our operations. We continuously strive to improve our training methods in order to ensure the best possible training within the company. A team oriented approach is fundamental and governs all training of flight and cabin crew.
All flights shall be managed based on the Risk, Threat and Error management (TEM) model.
TEM is a comprehensive model for improving flight safety. Skillful execution of the model will reduce risk exposure by improving the management of Threats and Errors.
Risk assessment and Risk Management is handled at management level in the organization. Threat and Error management is directly related to the Team members/crew members and handled at the operational level.
"The job as a pilot in SAS is very interesting and with a lot of challenges. I have enjoyed my 15 years in the company entering direct after completing my ab-initio training in USA. I have flown MD80, B737 and now the Airbus 320. I do feel that the route net for the A320 gives me a good balance between long charter flights and the shorter European flights with a duration between 1 and 3 hours".
Statement from a line pilot